Kim Kardashian Rocks Sports-Bra Look In Snowy NYC. It was no sun, no shirt, no problem for Kim Kardashian this week!
The 34-year-old reality star stepped out in snowy New York City on Monday with the girls on full display, wearing a white sports-bra-like shirt that showed off her toned tummy and cleavage.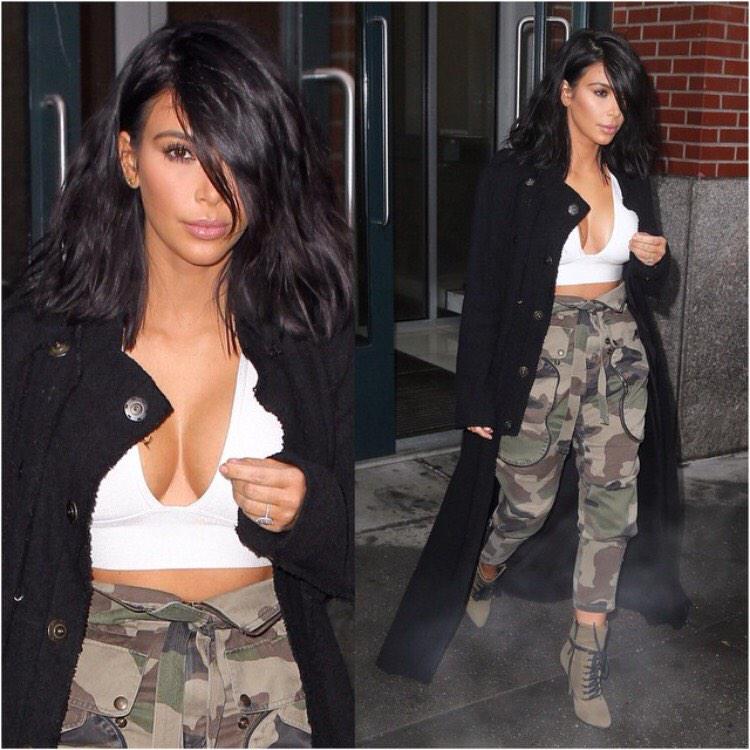 Kim paired the top with high-waisted camo pants and army green laced boots (with a heel, of course).
North's mom kept her arms warm with a long black coat, and Tweeted photos of her look, complete with fashion details.
"Today's vibes- Faith Connexion pants, House of London top, Lanvin coat, Giuseppe Zanotti boots," she Tweeted on Tuesday night.
Kim also gave a Twitter shout-out to her "hot" sisters.
"WAIT WHAT?!?!?! HOW HOT ARE MY SISTERS!!!!!!!! OMG I NEEDED TO POST SOME GORGEOUSNESS THIS MORNING!!!!! " she captioned a picture of Kendall Jenner, Khloe Kardashian and Kylie Jenner.