Tokyo
- Japanese people 60 years old was found floating roof piece on Sunday about 15 miles from the coast for two days after the tsunami dragged him into the sea. The man named Hiromitsu Shinkawa swept into the sea while he stuck to the roof of his house was swept by the tsunami.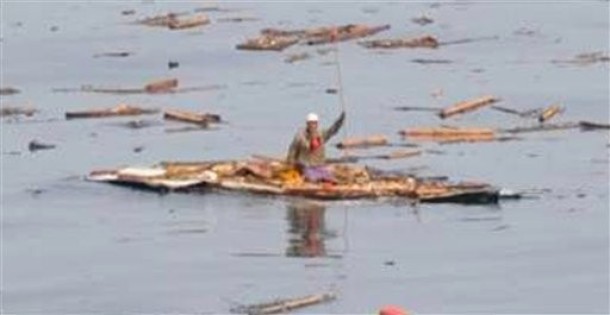 He was floating in the waters northeast of Japan for two days so try to seek the attention of passing helicopters and boats but no one ever saw it. According to news broadcast on government-owned television, NHK that the man was seen floating with pieces of roof in the middle of the ocean that lies as far as 15 kilometers off the coast of Fukushima Prefecture.
Japanese military ships to find the old man waving a red dress off the coast of the city Minamisoma then the Soldiers Used a small boat to fetch the uterus from the ocean. Officials said that Defense Shinkawa said to the rescuer if he and his wife returned home to take a number of his own needs after the earthquake on Friday the tsunami hit and added his wife wiped away that Shinkawa.
"A number of helicopters and ships passing by, but none of them saw me," he said quoted by the official. Shinkawa have been raised and in "healthy condition" after being dragged into the ocean along with his house, Kyodo news agency reported.
The death toll from the earthquake measuring 8.9 on the Richter scale the which is the fifth strongest earthquake in the history of the world and cause a tsunami reached More Than 1.300 people but the government says That figure is expected to reach 10 thousand people while Thousands of others still missing. According to the news more than 300 thousand people have been evacuated in Northeastern Japan in Addition to expanding the power-down occurs in many cities in Japan.